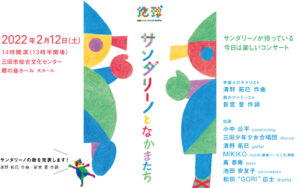 February 12, 2022 14:00 ー
Performers
〈conducting〉 Kohei Konaka 、 〈chorus〉 Sanda Children's Choir 、
〈guitar〉 Takumi Seino 、 〈vocal・keyboard harmonica・reading〉 MIKIKO 、 〈bass〉 Yasutaka Yorozu 、 〈percussion〉 Ayuko Ikeda 、 〈drums〉 Hiroshi GORI Matsuda 、 〈talk〉 Susumu Shingu
Children of the earth sing vigorously the song of the extraterrestrial being, Sandalino, who loves the earth.
Please look forward to the enthusiastic performance of Takumi Seino Quintet!
---
Admission: 〈Adults〉 2,000 Yen.(Sandalino's Song CD will be presented.) 〈Junior high, high school and university students〉 500 Yen. 〈elementary school students〉 100 Yen. * Full free seats * Free for preschoolers
Location: SATONONE HALL in Sanda, Hyogo / Main hall (1-3-1 Tenjin, Sanda, Hyogo)
Organized by: ATELIER EARTH Executive Committee
Sponsored by: Hyogo Prefecture, City of Sanda, Sanda City Board of Education
Supported by: HONEY FM
For inquiries: ATELIER EARTH Executive Committee Phone:079-568-3764Articleshttps://www.youtube-nocookie.com/embed/lGOUI-a41wcViewing time : 8min 25s
Video creation:Shingu Atelier
---
The concert of Sandalino and Friends was held at the Cultural Center of Sanda City, SATONONE Hall on February 12, 2022.
Although we did not know whether it would be held until the last minute, about 200 people gathered and enjoyed the cute voice of Sanda Children's Choir conducted by Kohei Konaka and the powerful performance of Takumi Seino Quintet, including the story of Sandalino by reading of MIKIKO. At the end, they sang the song of Sandalino all together.
Susumu Shingu appeared on the stage at the beginning. Those who were invited on the stage asked, " What is Sandalino? "
Sanda Children's Choir, conducted by Kohei Konaka, sang five songs about friendship among children.
The dynamic performance of Takumi Seino Quintet after the intermission.
MIKIKO recited the story of Sandalino.
Illustrations of the story were projected on the screen one after another.
The singing voice of the children, who came up from the audience on the way, overlapped with the song of Sandalino sung by MIKIKO.
At the end, everyone sings. The concert ended with the voice calling for Sandalino.
---
The Mainichi Shimbun
January 25, 2022
---
Kobe Shimbun
February 2, 2022
---
Kobe Shimbun
February 16, 2022
---
Rokko Times
February 23, 2022